Toamasina
March 07, 2013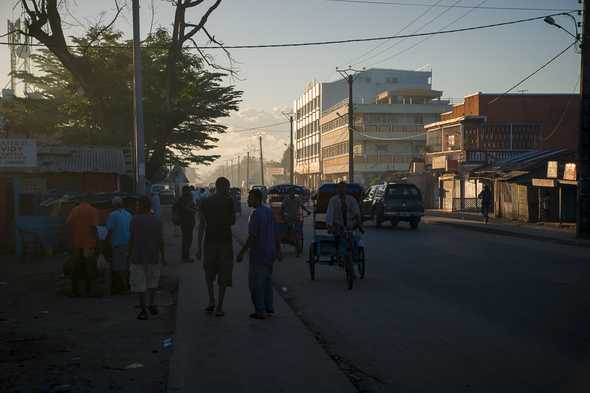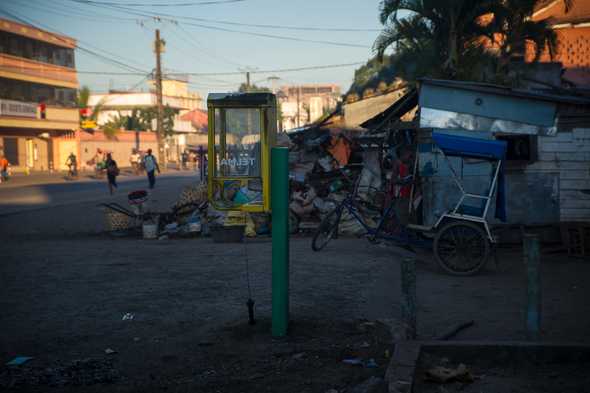 Journey to this lovely place from Antananarivo is super simple.
First you need to take a cab to the proper bus station on the outskirts of the capital. Then fight your way through a bunch of middlemen trying to sell a ticket to anywhere. You find a minibus that goes to Toamasina, make sure it's leaving "just now". Unfortunately, just after buying the ticket you learn that actually it leaves in four hours.
You can walk around a bit on the market, look at the rotting piles of meat just next to the food stands, buy a baseball cap or a watch, or just sit in a nearby restaurant with surprisingly good cheap food and watch the busy life going on behind the windows. Somebody putting a wardrobe on the roof of a minibus, then putting a car tire inside the wardrobe and finally topping it with a desk. People got to move somehow.
You want to be a bit earlier by the minibus to make sure you get good seats, so you're waiting for 30 minutes on a street watching your driver putting bags of grain on the roof of your vehicle. Finally it's the time to go, so you sit inside. And sit there for the next two hours waiting for it to fill up with passengers. Watching romantic goodbyes of couples being divided by this 350km journey and hoping they just decide to go together, so that you're one full seat closer to leaving this place.
Finally, two hours later then expected, you're on your way. You're going in a convoy of a few trucks and minibuses, because it's already after sunset and bandits are known to attack lone vehicles on this road. Basically, on any road. It's ten hours of a curvy asphalt littered with holes, sometimes driving with no headlights because the drivers are playing some weird overtaking game. Ten hours of overtaking on a curve. Ten hours of seats so uncomfortable that you can't fall asleep even though it's the middle of the night. Ten hours of wind in your face coming through a broken window that you can't close, cold enough to make you wake up freezing.
After all this at 5.30 am you stop at an empty parking lot, surrounded by closed market stands, darkness and a couple dodgy guys observing your arrival. Fortunately you're still safe inside for thirty more minutes as the driver decides to take a nap before letting anybody out and getting luggages down from the roof.
You're here and another beautiful day in Africa's already starting.
---
Written by Wojciech Ogrodowczyk who takes photos, climbs mountains, and runs Brains & Beards to help companies deliver better mobile applications faster.