Manaslu Trek: Manaslu Base Camp
February 06, 2017
When doing the Manaslu trek you need to properly prepare for crossing the highest pass at 4930 meters. For this it's not enough to follow the path as it leads towards it, you need to stop and do a couple side trips to let the organism get used to physical effort at higher altitudes and also spend more time sleeping above 3000 meters, both of which are really helpful.
One of the popular spots to stop and get some extra altitude is Shyala, a village which half is formed by dozens of guest houses, hostels, etc. It's already high enough to offer health benefits of sleeping at altitude, but still relatively easily accessible with supplies, so the level of comfort offered is pretty high. There are hot showers, internet connection, and beer. Also, beautiful views if you care to wake up early.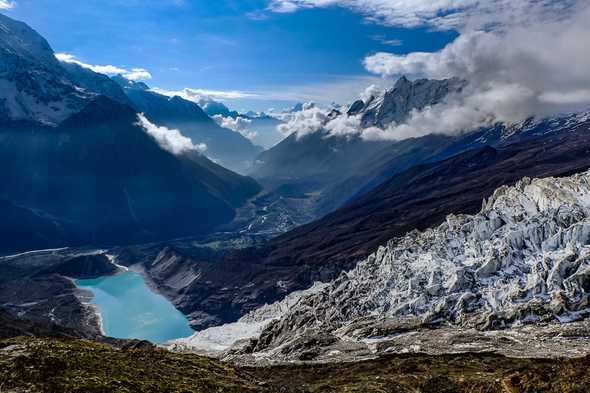 From Shyala there are two common side trips possible: visit some hot springs, or go for a hike to the Manaslu Base Camp. With hot showers available in the village, Base Camp usually wins. For us that wasn't even a question.
We woke up early in the morning and at 5am we were already walking towards the camp. The route is not that long, but it does go up from 3300 up till 4500 meters. It doesn't sound that bad, but it can take a few hours when you're struggling with the altitude. Especially the last 300 vertical meters can be discouraging.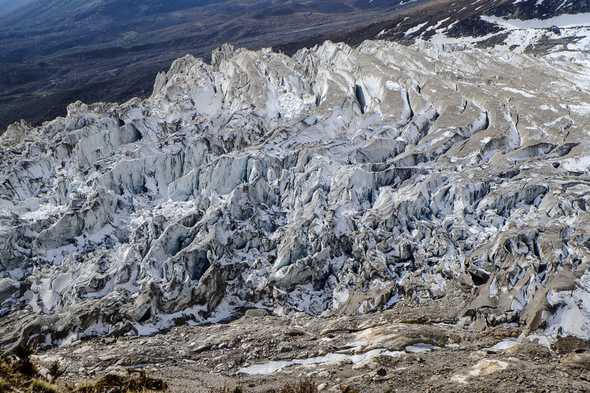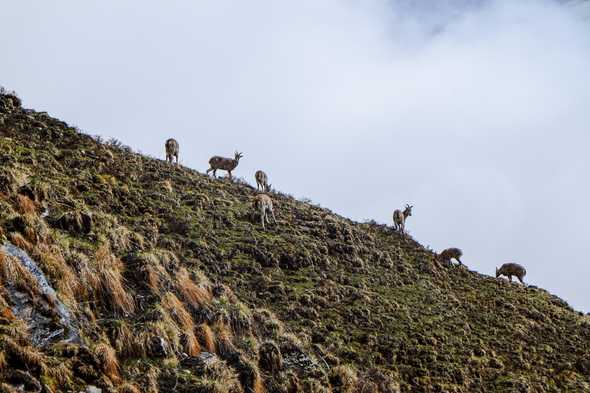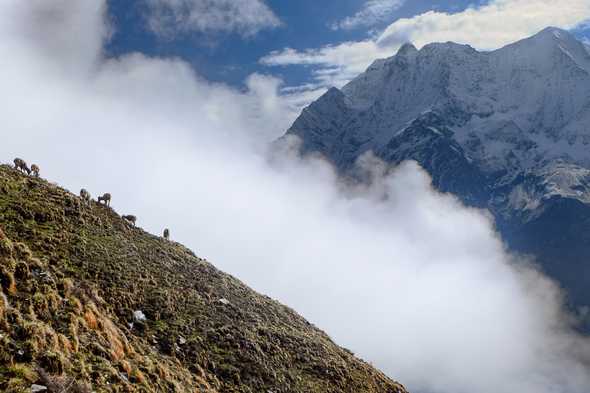 Fortunately, on the way you have plenty of excuses to stop and take in the views, or take some photos. Just don't try to make a video, your heavy breathing in the background will ruin it. On the way we were lucky enough to get really close to a couple groups of mountain goats. They even managed to pose nicely with the backdrop of steep face of Samdo Peak.
Also, there are great view on the Manaslu glacier. You can see its whole journey - starting on the slopes of Manaslu, as solid blocks of ice, then turning into a cracked surface with hidden crevasses (well, at this time of year not really hidden well), later transforming into a labirynth of seracs, and finally letting its waters join the green lake at the bottom of the valley.
Obviously, there are also the views towards Manaslu peak itself. The characteristic needle at the end of this 8163 meter peak pops in and out of the clouds the whole morning until it finally disappears from view around 13h, as it usually does in the early afternoon.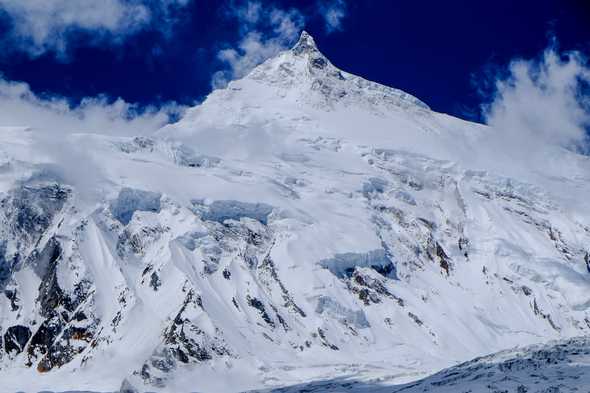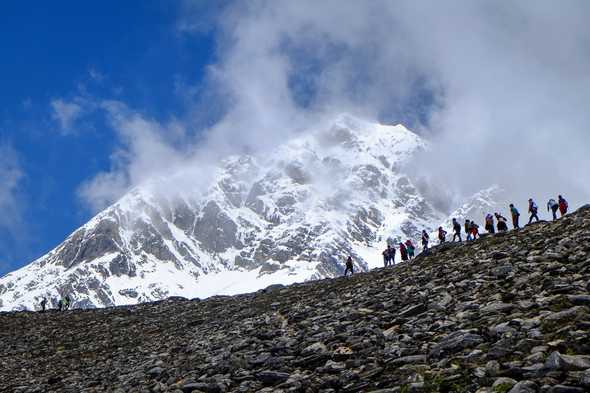 High-mountain expedition base camp is a peculiar place. It's where the climbers spend most of their expedition time - resting before trips up the mountain to install more camps, preparing for the upcoming trips, getting bored, charging electronics from solar panels, and cooking their limited supply of food. But mostly getting bored.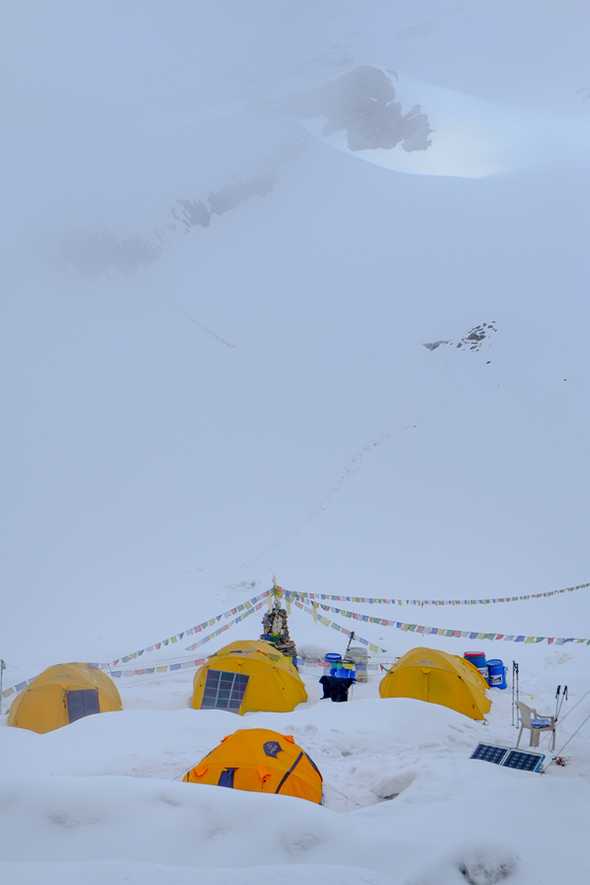 However, we were in for a treat. This day one of the commercial expeditions just finished their climb and was about to go down, closing their camp. Commercial expeditions are a completely different beast from sport ones. Their role is to get as many high paying clients up the mountain as possible, in as comfortable way as possible. This means a lot of helpers and equipment is involved.
This particualr expedition just managed to get almost all of its twenty-something members to the top of Manaslu. Great success and a great thing to celebrate in Shyala. All the equipment that needs to be brought down has to be carried by local Shyalan porters, which means money. All the equipment that is not worth taking back home will be left to be taken by anyone who wants it (Shyalan villagers), which means free stuff. All the climbers going down to Shyala will be celebrating their success, which means lots of (expensive!) alcohol being bought. Local economy blooms.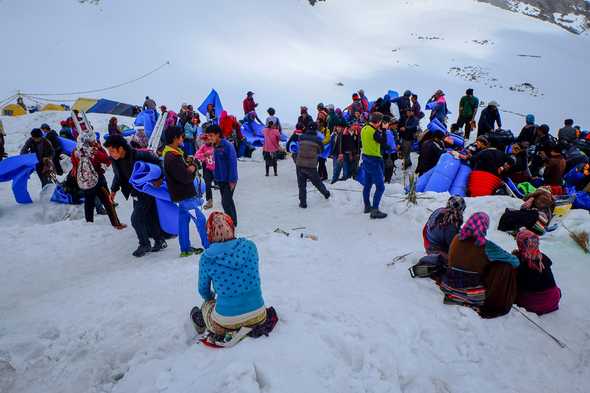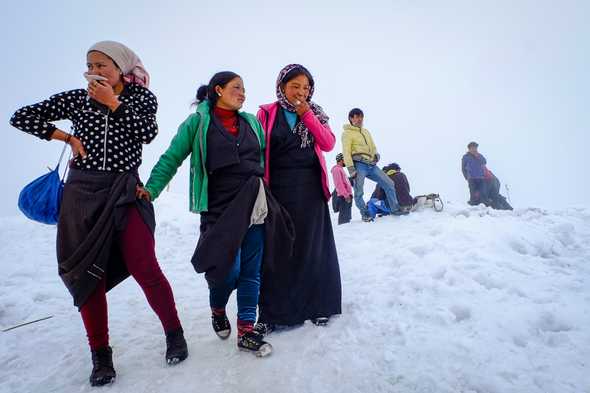 So, we got to witness the pure chaos of trying to manage tens of porters arguing between themselves who's going to carry what, another tens of local villagers calling dibs on various equipment being left, all of it in sub zero temperatures and with poor visibility (at this altitude clouds usually come in the early afternoon). A joy to watch.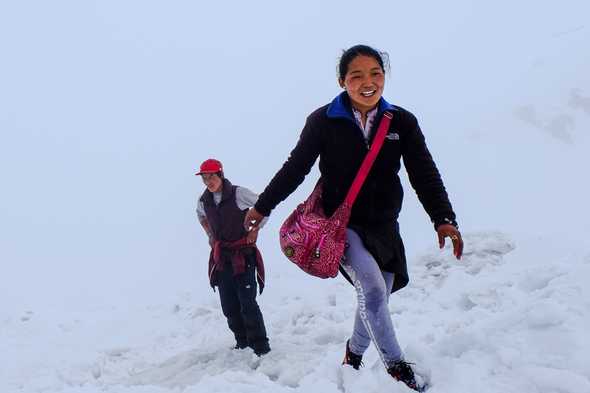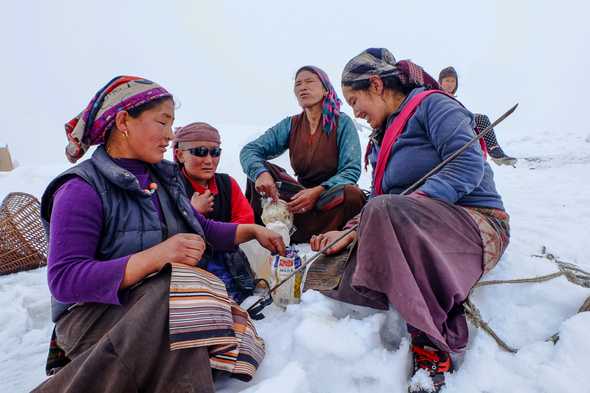 Unfortunately for us, it wasn't such a joy to spend the next night in the same lodge as all the members of the expedition. Having to wait hours for food, expedition bags everywhere, shouting, playing music from mobile phone speakers, etc. Not exactly what we had in mind.
Well, at least the views we got out of this day hike were pretty great.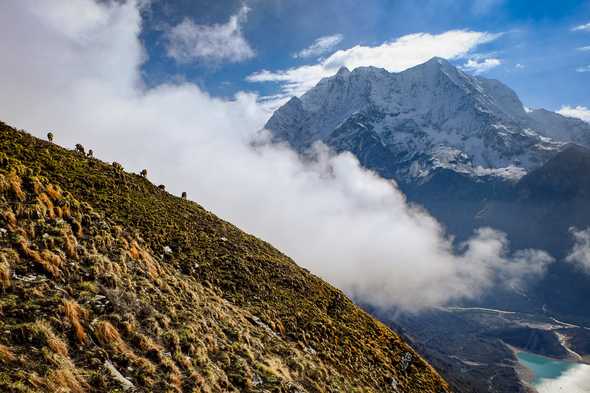 ---
Written by Wojciech Ogrodowczyk who takes photos, climbs mountains, and runs Brains & Beards to help companies deliver better mobile applications faster.